Verktygsboden
Verktygsboden has gained control over its data, and created a better customer experience by delivering relevant and accurate product information in all its digital channels.
Control of data streamlines and simplifies
"Inriver makes it extremely easy to work with and manage data, and the collaboration with Geta has exceeded all expectations," says Daniel Josipovic, web manager at Verktygsboden.
The Task
Verktygsboden experienced limitations with its previous solutions, and wanted to gain control over its data. Something inriver PIM made possible for them. They first tested another solution for exporting product data, and then had to change data in two different places at the same time, which entailed a lot of manual work.
Verktygsboden heard about inriver PIM and Geta, and think it seemed like a good solution. Already after the first meeting, this felt right, and after making comparisons in the market, the choice fell on inriver and Geta.
The Solution
Verktygsboden saw the advantage in being able to handle and administer data to several different channels at the same time. "Inriver are very good at filtered "queries", i.e. where you segment content and databases, which makes it very easy to work with and manage your data", says Daniel.
Working with Geta
"The collaboration with Geta has exceeded all expectations", Daniel says. "It has been uncomplicated, and we experience the expertise you have in the field. It makes it easy to work with you. There has been close and personal contact throughout. Instead of having strict models and complicated contact routes, we have been able have direct contact with the developers. This has made the project agile and flexible, and fully adapted to our needs and expectations".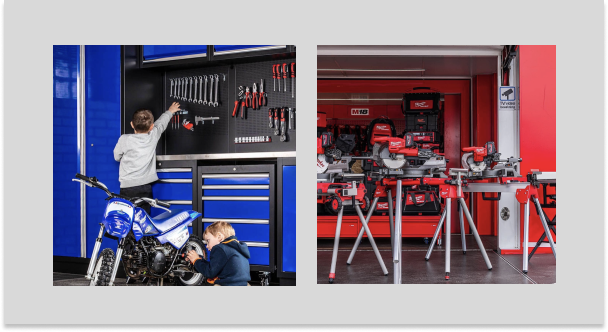 Sucess factors
Verktygsboden came from a very large platform, Geta's setup of inriver allowed them to maintain the large data structure from their old system. At the same time, they were able to streamline and simplify the work extremely much, which has been an important success factor for them.
The future
Verktygsboden is now expanding with new channels and markets, and has a very positive view of the future.
About Verktygsboden
Verktygsboden is one of Sweden's largest actors in tools and machinery. Their goal is to offer a full range of tools and accessories for both professionals and home fixers at the lowest possible prices.
Today, the company has a unique product range with more than 100 well-established brands spanning several areas. Verktygsboden also has two own brand products. From the store in Borås, they supply products from the small screw to the large machine.
Via their online store and central warehouse, they can also supply customers with goods throughout Sweden. Their vision is: Everyone should have the opportunity to build their dream garage!
Contact us
Christian Dommarsnes
Sales Manager
Christian Öman
Sales Executive Sweden