Systemhus
We launched new websites for Systemhus, where communicating quality and experience is in focus.
Systemhus gets a new expression - and a new impression
Systemhus wanted a renewed expression on their digital surfaces, and we helped them develop a completely new solution with updated visual design, improved UX and a publishing solution based on a headless framework.
Systemhus is one of Norway's most well-known and stable housebuilders. Over a number of years, they have delivered functional and innovative homes all over the country.
"We build the future" is the guiding star for the entire organization, and a promise we would help ensure is also kept throughout the entire digital customer journey.
Delivery
UX, Headless, Sanity, SEO, Analysis, Geta Commerce Cloud
Quality and experience is important

The solution is a headless platform based on Sanity CMS. The goal of the website is to give users easy access to the necessary information about the process of building their future home, and at the same time to be inspired to choose their dream house.
Through ongoing dialogue both with project owners, in-house designers and our own customer team, we have worked out a solution that both takes care of the functional need and at the same time builds up a new visual identity for Systemhus.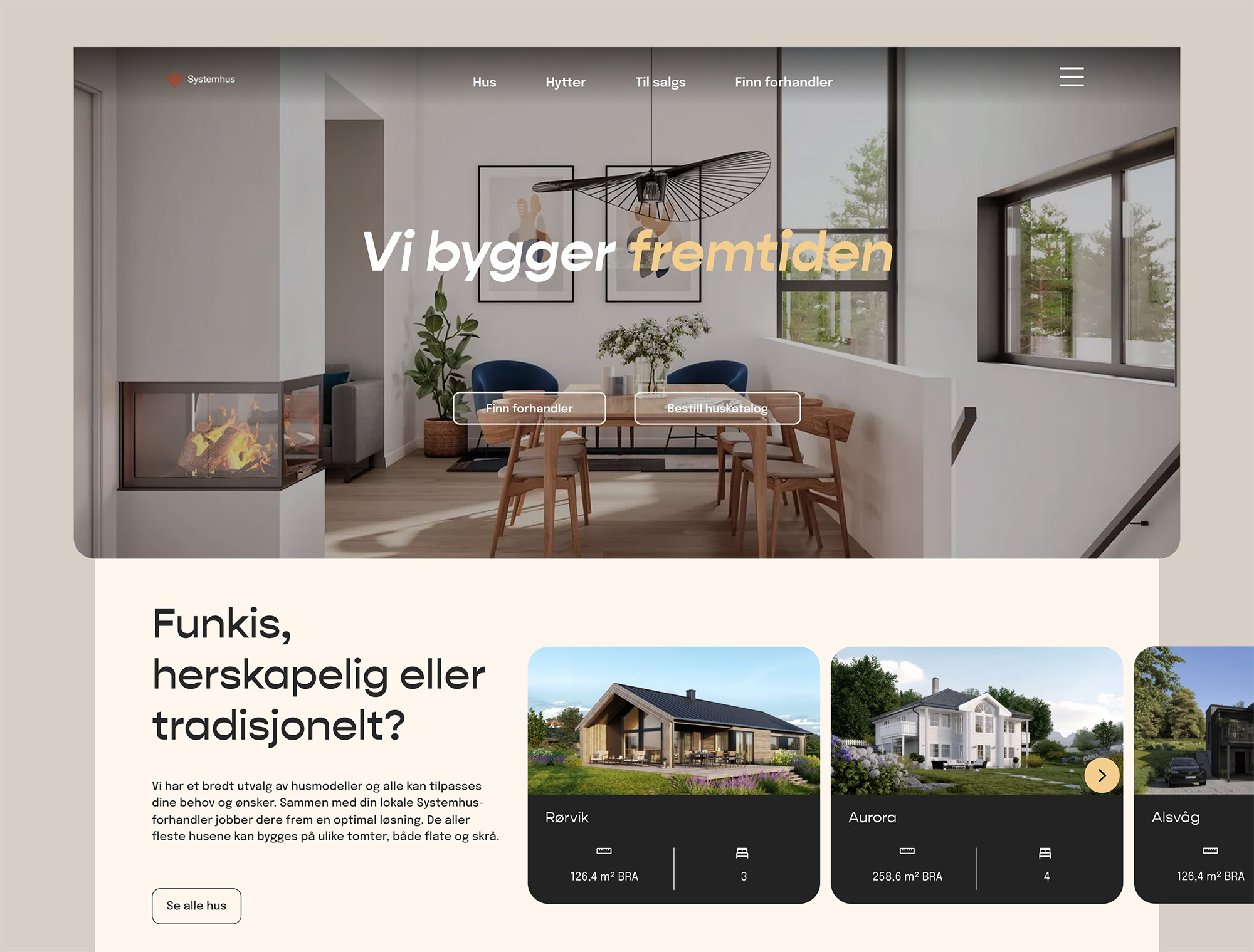 Systemhus wanted to create a universe to showcase their house models, as well as convey values ​​such as quality and long experience. UX designer Tomas Rekstad has worked closely with the UX lead in Systemhus, Anders Holt throughout the process. "Giving users both the information and at the same time the inspiration they need in various phases of their building project has been an important focus area."
Good user experience and content also play a big role in creating a safe feeling about taking the next step in the building process. In the new solution, we have placed great emphasis on creating clear exits so that potential house builders can quickly continue the dialogue with one of Systemhus' many local resellers.
"This design process has been incredibly exciting. The UX collaboration between us and Tomas has been characterized by many creative meetings, good discussions between us designers and business, and an end customer focus right from the start. I am genuinely proud of what we have achieved together with Geta in this project."
Anders Holt, Head of UX Mestergruppen

The Mestergruppen platform is crucial

Systemhus is part of Mestergruppen - one of the largest groups in Norway within building materials, cabin and house suppliers. The master group is digitizing the organization through, among other things, centralizing the technological platform, in addition to organizational changes, more focus on customers and the co-operation of customer data and insights.

Systemhus is the first of the Mestergruppen's house building chains to be established on the new technical platform, Geta Commerce Cloud. Previously, we launched XL-Bygg, Byggeriet and Byggtorget on the same platform. You can read more about that here.
Contact us
Christian Dommarsnes
Sales Manager
Christian Öman
Sales Executive Sweden