ABK-Qviller - complex B2B online store
The largest Norwegian distributor of heat pumps chose Geta as the total supplier for their online store.

Geta as total supplier
"We have a very good collaboration, and we are happy to have Geta as a total supplier", says Morten Solsem, department manager for project and development at ABK-Qviller.
Delivery
Advisory, Geta Commerce for Optimizely, Design/UX, inriver PIM, Tracking
ABK-Qviller delivers climate-friendly, energy-smart solutions for heating and air-conditioning of homes and commercial buildings. They are Norway's largest distributor of heat pumps, heat absorption, air conditioning and humidification.
ABK-Qviller is a pure B2B business. Their customers are specialist retailers and contractors. In addition to delivering individual products, they are a partner for their retailers, and assist with sales, system selection, engineering and offers, documentation, start-up and support.
New websites and online store
ABK-Qviller had websites with lots of information for their resellers. They wanted to make an online store where the retailers could order products directly. The goal was to streamline previous manual processes and make it easier for their customers.
Geta has made ABK-Qviller's new website, which includes an online store and pages with log-in for their customers.
The solution is built on Geta Commerce for Optimizely. This is a complete e-commerce solution built on Optimizely's framework, where basic functionality is already developed, which helps accelerate e-commerce projects. ABK-Qviller's e-commerce solution is also using inriver PIM (product information management) to handle information and structure all product information.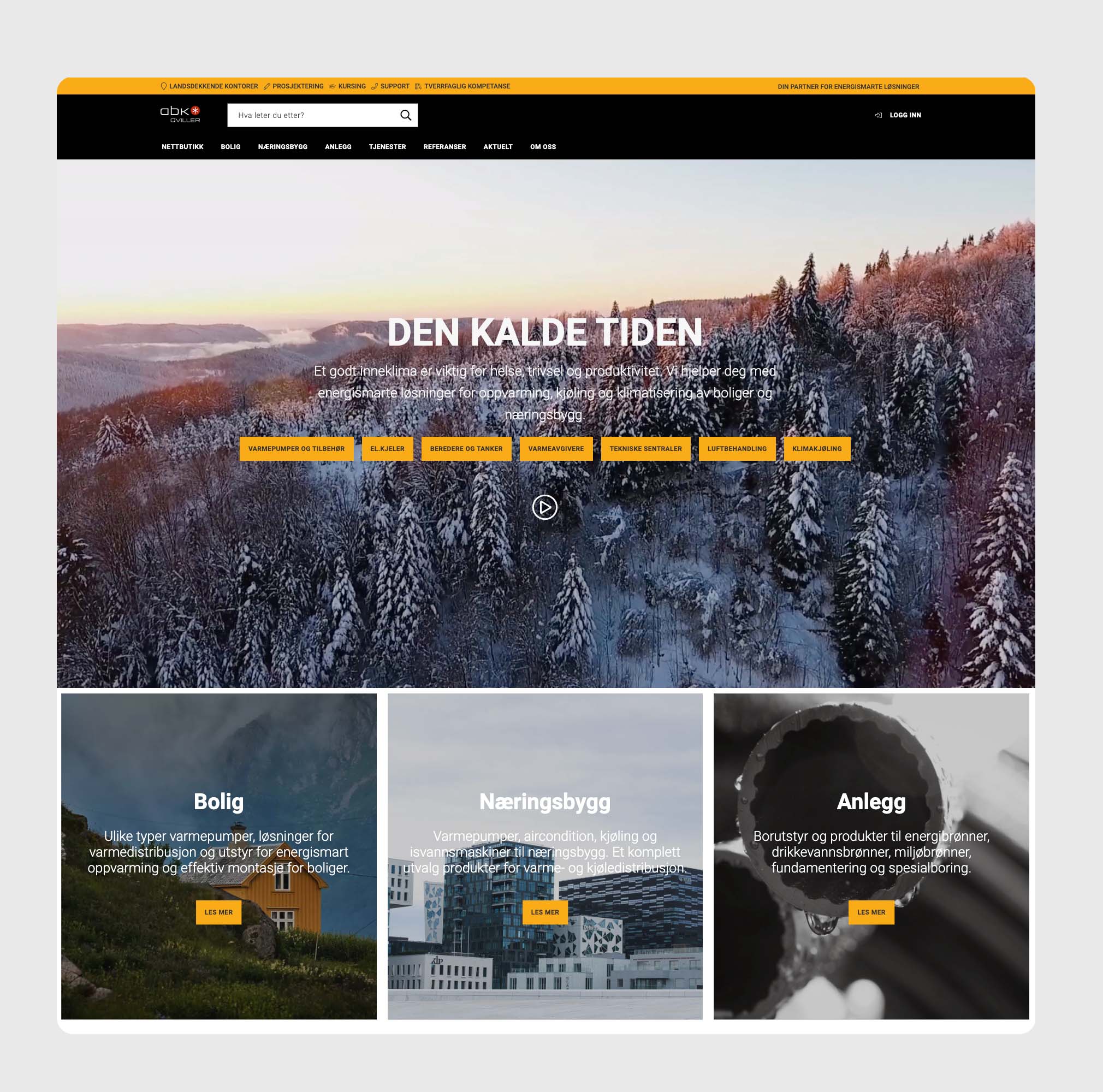 In addition we have helped make the websites for Toshiba heat pumps and Samsung heat pumps, where ABK-Qviller is the Norwegian importer. The target group for these is for private individuals, and they can request a quote or an inspection.
This function is also available on various websites such as Tjenestetorget, Schibsted and Nettbureau AS. The requests appear as leads for ABK-Qviller's resellers under logged-in pages in the online store, in a separate link portal, where the data comes from the CRM system Dynamics 365.
Marketing and UX
Marketers from Geta have helped setting up Enhanced Ecommerce to help track the behaviour of customers in the online store, and send sales data to Google Analytics. In addition to this tracking is set up to analyze the behaviour on the website, including customers' use of list pages, shopping cart, menus, product pages and check out.
Designers and UXers from Geta have helped make and align design for online store and reseller portal, and how to show products.

Choice of supplier and solution
When ABK-Qviller was looking for a supplier of the solution, they did a thorough process. "We were familiar with Geta, and knew what you stand for. We have also had a look at other solutions that Geta has created, and it has been useful for us and our process," Morten says.
They also made thorough considerations whether to start with blank sheets, or choose a product like Geta Commerce for Optimizely.
"We chose to start with Geta Commerce, and that was a good decision. Our solution is very complex, and we had to do quite a lot of development, as this goes far beyond a standard e-commerce solution," Morten says.

Inriver PIM and holistic system approach
ABK-Qviller have been working for quite some time to make it easier for their customers to find and order all components and all accessories they need for a heat pump system. They are bringing this into their e-commerce solution.
ABK-Qviller uses inriver PIM to handle and structure product information in their online store and in their databases.
They have a complex set up with many relations between products. Products can be sold separately, as part of a package, be an addition to a package, a part of an additional package and so on.
In addition to this, price matrices and customer price groups are synchronized from the ERP-system to the online store, which mirrors all net customer prices.


Complex solution with many integrations
When logged in to the customer portal, the resellers have their own dashboard. Here they can manage users, and have a full overview of their history. They can check the status of leads and orders, manage orders, place orders, create support cases and communicate with ABK-Qviller.
For each component, information is extracted on each individual product according to customer price groups, package prices and availability.
"The price structures in the online store are so complicated that we had to rewrite large parts of the price engine to make it fit the needs," says Eirik Horvath, Tech Lead in Geta.
"There are many complex integrations in this project. In order to always display correct prices and updated information, there are many queries sent to different systems all the time. We have managed to solve this in a good way, without compromising performance on the site," says Jorun Gabrielsen, Project Manager at Geta.
"We are very pleased to have Geta as a total supplier. Geta is responsible for the entire solution, and has a full overview of everything that takes place in both PIM and the online store," says Morten.
Controlled launch
The solution is tailored for a segment that already are customers. It was first released as a pilot, and a few of the customers were allowed in to test the solution. They had a close dialogue to ensure that everything worked as it expected, and clean up any errors.
They continue a controlled onboarding and gradually work towards the goal of onboarding all existing and many new customers.
When launched, the online store was set up to only order items that were in stock. Then we have added the option to order items that are not in stock, and get delivery dates or normal delivery time for the items.
ABK-Qviller and Geta continue to work on further developing the solution and adding new functionality, to make it the best possible solution for their customers.


Further work
A lot of work has been put into handling the life cycle of the products. We are now working on building a good structure to make spare parts and product documentation available for discontinued products. This is handled in the PIM, and one of Geta's UX designers is working on how this will be presented in the online store.
We are also working on a document center, using inriver PIM to collect all documentation associated with the items in the shopping cart, making it available for download as a complete package.
They are well on their way with their online store, but want to further develop it and make it better. In addition to serving a large existing customer base, ABK-Qviller's website is an important channel to present themselves to new customers.
"We have a very good collaboration with Geta. Geta brings good suggestions and concrete solutions to our problems. We have weekly status meetings, where we discuss both small and large issues. We also work together in Jira, and thus have a very good overview of all aspects of the process," sier Morten Solsem.
Here you can take a look at ABK-Qviller, Toshiba heatpumps and Samsung heatpumps.
Contact us
Christian Dommarsnes
Sales Manager
Christian Öman
Sales Executive Sweden