Transforming the in-store shopping experience
Patrick van Kleef
28.11.2019 23.00.00
"82% of smartphone users say they consult their phones on purchases they're about to make in a store"
- Think with Google
Shopping from home is very popular. However, a significant amount of customers still prefers to go to a physical store to shop. There are several reasons, customers don't want to wait for their products to be delivered, get more inspiration in the stores or just prefer to hold or experience the product before buying it. As in-store smartphone usage continues to grow, we will use this to our benefit and improve the in-store experience. Being able to interact with customers through their phone allows you to provide inspirational information easily, allow them to compare items or even simplify checkout by letting them pay through their phone. Track customer behavior and interactions in-store will help store owners to understand what's happening inside the store. Think of the way how we currently track visitor behavior on our online platforms in order to do improvements.
Interaction with the physical world
Nowadays, there are several technologies to interact with the physical world by using the smartphone. Each of these technologies has its pros and cons, but more important to mention is that these technologies can be used as we speak. NFC (near field communication) which was founded in 2006 and is already being used in several modern solutions. At a minimum, you need two NFC enabled devices, for example, a smartphone and an NFC chip. Two devices can make a connection if both devices are approximately within 10CM. As NFC is adopted by Android and IOS devices the technology is being used in several sectors, read more about NFC. Examples of NFC solutions are scanning products, opening doors or doing payments. Using this technology requires customers to actively scan an NFC chip.
In order to detect customers entering the store, technologies like WiFi or GPS can be used. Of course, it's mandatory that customers are carrying a smartphone. We see more solutions in the market that are using 'smart' cameras to detect people which removes the requirement of carrying a smartphone. However, due to privacy concerns and legislation these solutions can't be used to detect who that person is.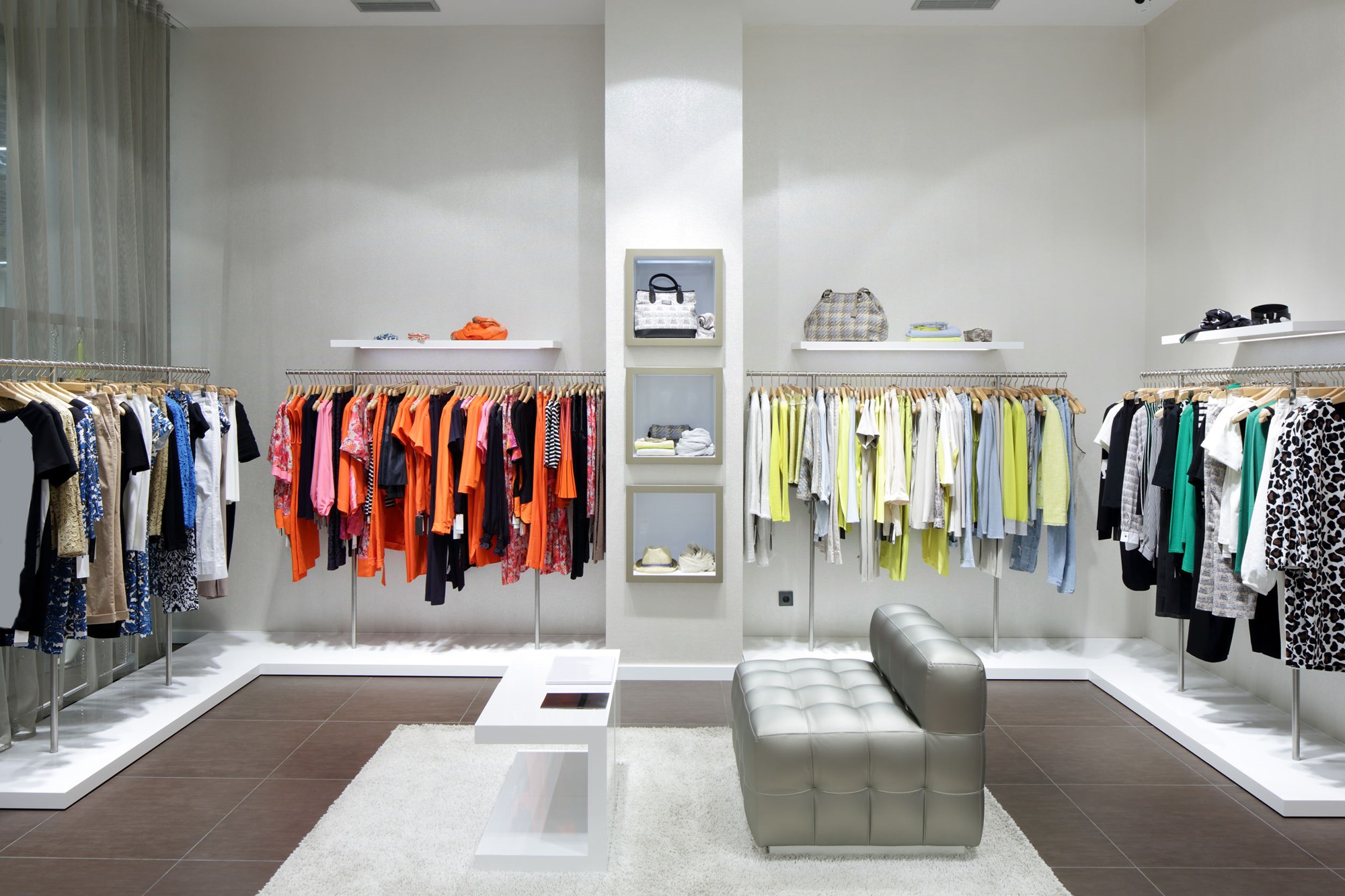 "61% of shoppers would rather shop with brands that also have a physical location than ones that are online only"
- Think with Google
The customer shop assistant app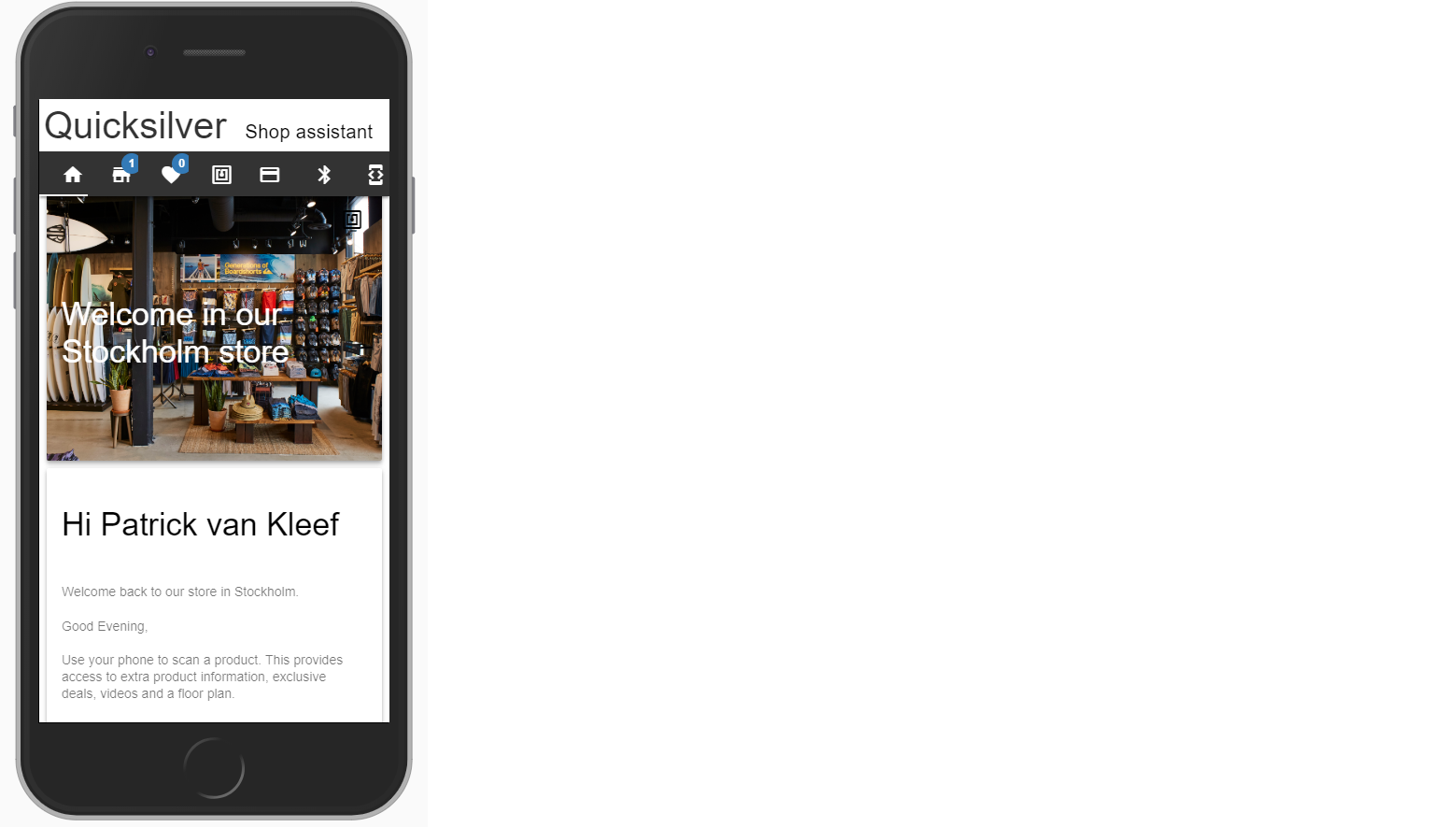 In order to provide an optimal shopping experience, the customer uses the shop assistant (progressive web app) app inside the store. When a customer enters the store the current store is detected by using WiFi or GPS depending on which service is available. The app displays the customer information about the store and personalized offers based on their shopping behavior on the available storefronts. Customers can't find all the information about a product in the store itself. For that reason, customers are using their smartphones to read more about a product or watch a video. To provide a seamless shopping experience customers can use the shop assistant app to tap a product and get more inspirational content, available variations or they can pay (using the payment request API) for the products inside the store.
All actions that customers are doing inside the app, on the website or other storefronts are collected and combined into one customer profile. This profile is constantly enriched with every customer interaction, for example when tapping a product. This provides us the ability to understand how the customer behaves across the different storefronts. By knowing the behavior of each customer, it allows us to improve the storefont(s), providing good recommendations and lastly an optimal shopping experience across the storefronts.
Getting more insight into customer behavior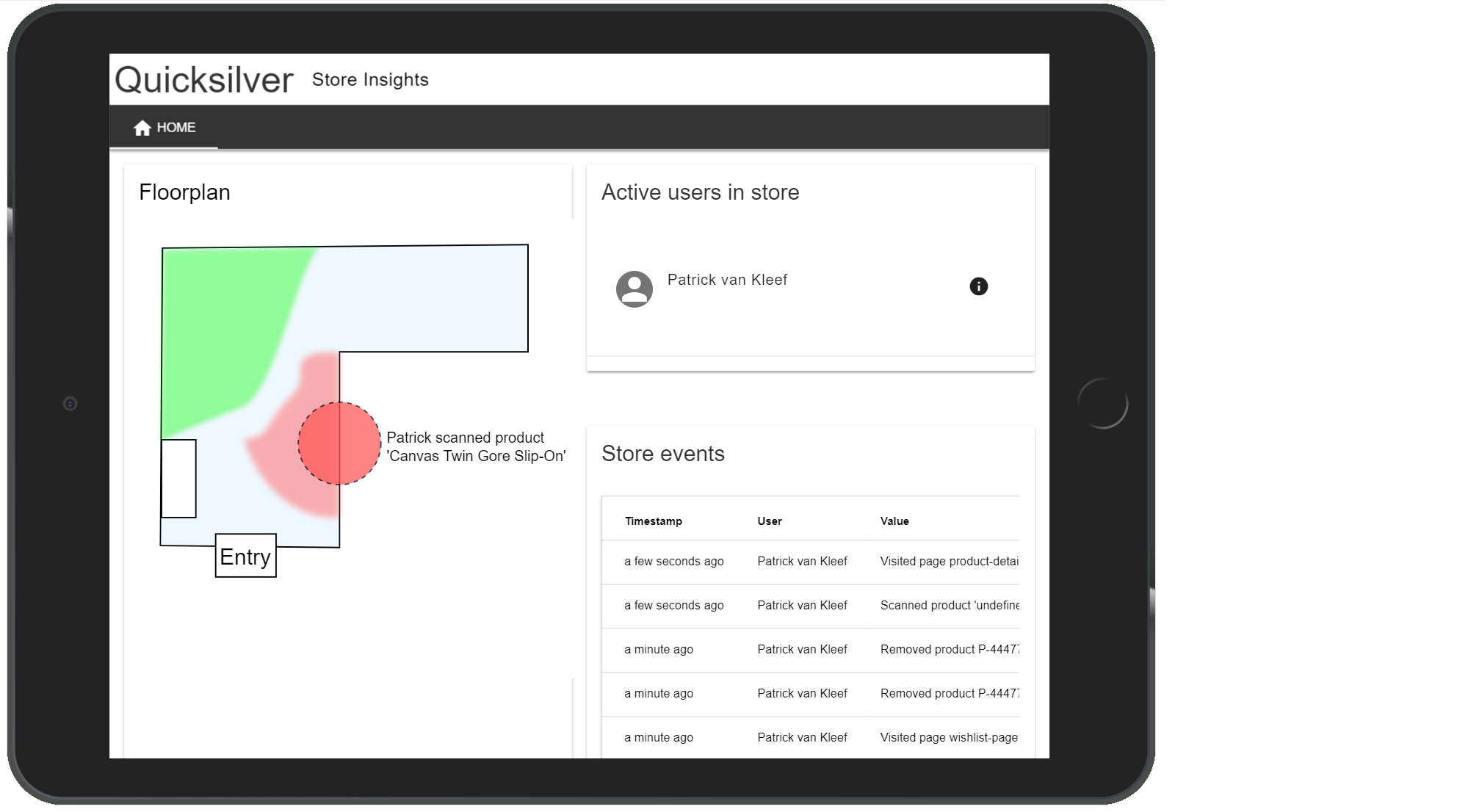 Real-time data provides store owners insights into the performance of their stores. With the store insights application, employees will receive immediate feedback about a customer's profile, their order history, and wishes. This information is used by store employees to approach customers in a natural and personalized way. The shop assistant app displays personalized content and offers to the customer, but now employees can do the same but in real life. Except for helping employees with sales, it also helps store owners with more insights into how customers are moving and interacting with products that can be used to optimizing their store.
The future
The expectation is that the physical world and the digital world will be more and more connected. With the rise of connected devices, that is expected to grow to 30 billion in 2020, it will be even more important to merge the two worlds together. Businesses can take advantage of this by providing a seamless shopping experience for customers. There is a lot of hype around this topic but the reality is that companies already develop and release solutions. For example, Amazon Go stores that remove all frustration of waiting in line to pay for products or the Dutch supermarket Albert Heijn that allows customers to do a self-checkout or even skip the whole checkout process. We expect that more companies will follow the big players and come with innovative solutions that will help customers during their shopping experience.