Selling services as the next breakthrough in e-commerce
Milos Malic
4/5/2021 10:00:00 PM
It took us years to optimize processes for selling products online. E-commerce techniques of standardizing product properties, media, displaying correct stock information, flow to checkout, payment and shipping are today almost the same across platforms and implementations. Great part of that success is in digital transformation of the retail industry.
In this article I am not referring to services that are already winning online. Be it video education, or since recently streaming of sports coaching. Those are sold using specialized platforms built just for that purpose. We are aiming at selling services via a general e-commerce platform where we already sell a whole catalog of products. Such an approach offers great opportunities for bundling services and products on checkout.
Let's focus on three most important areas that need to be "fixed" in the service industry, followed by some real life cases.
Dimensions of a service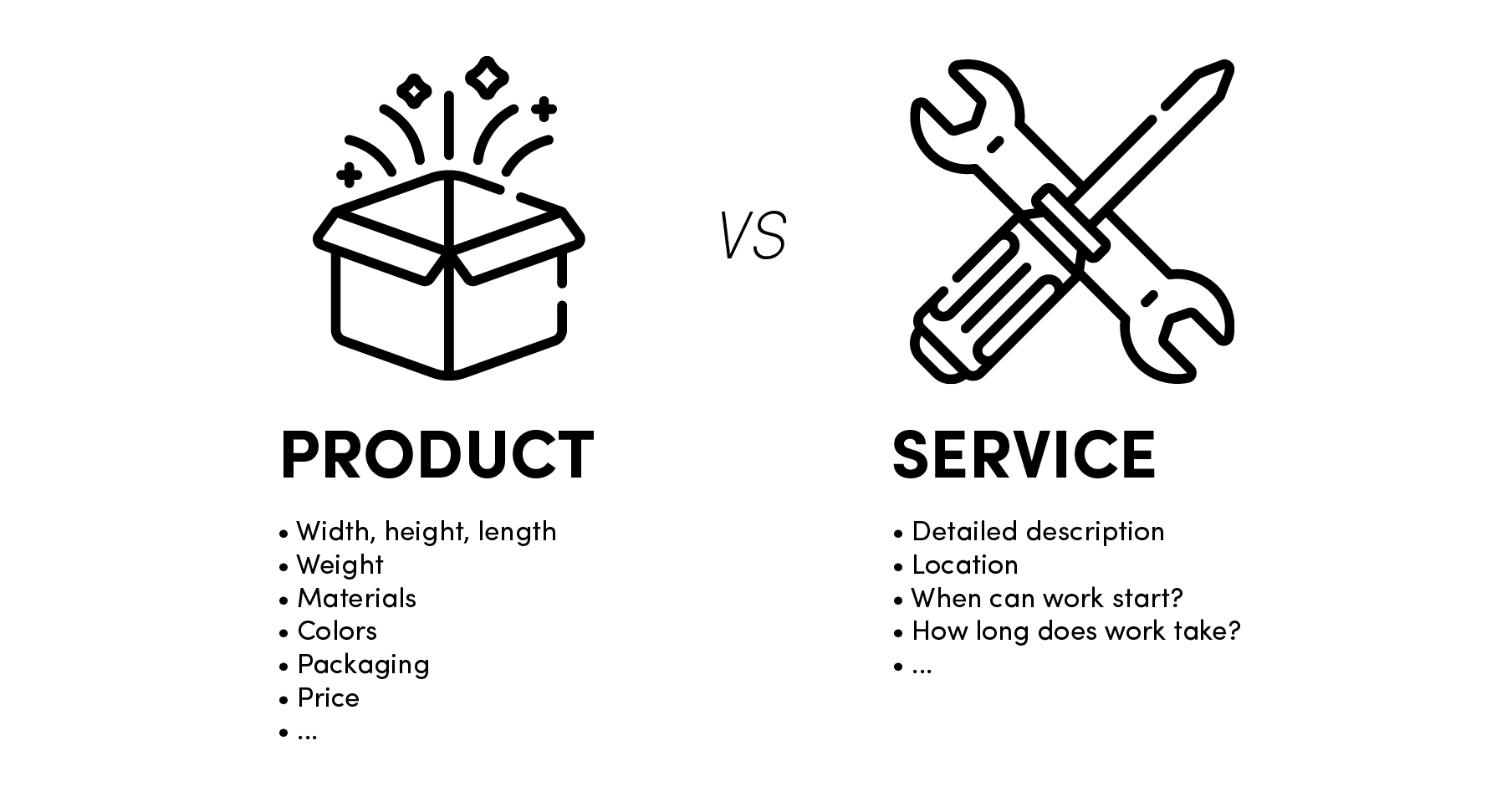 At the time being, products and services have very different properties. It is almost impossible to add "one piece of a service" to cart, proceed to checkout and expect it done for you. Only simple repetitive operations like a laptop battery replacement (CASE 1) are today's candidates. Anything more complex than that requires evaluation, negotiation and an offer-acceptance phase (CASE 3). Such workflows aren't supported by e-commerce as we (want to) know it.
Today, without further digital transformation of particular service business, we can deal with:
detailed description
two way shipping
payment options
communication

Trust base for product vs. service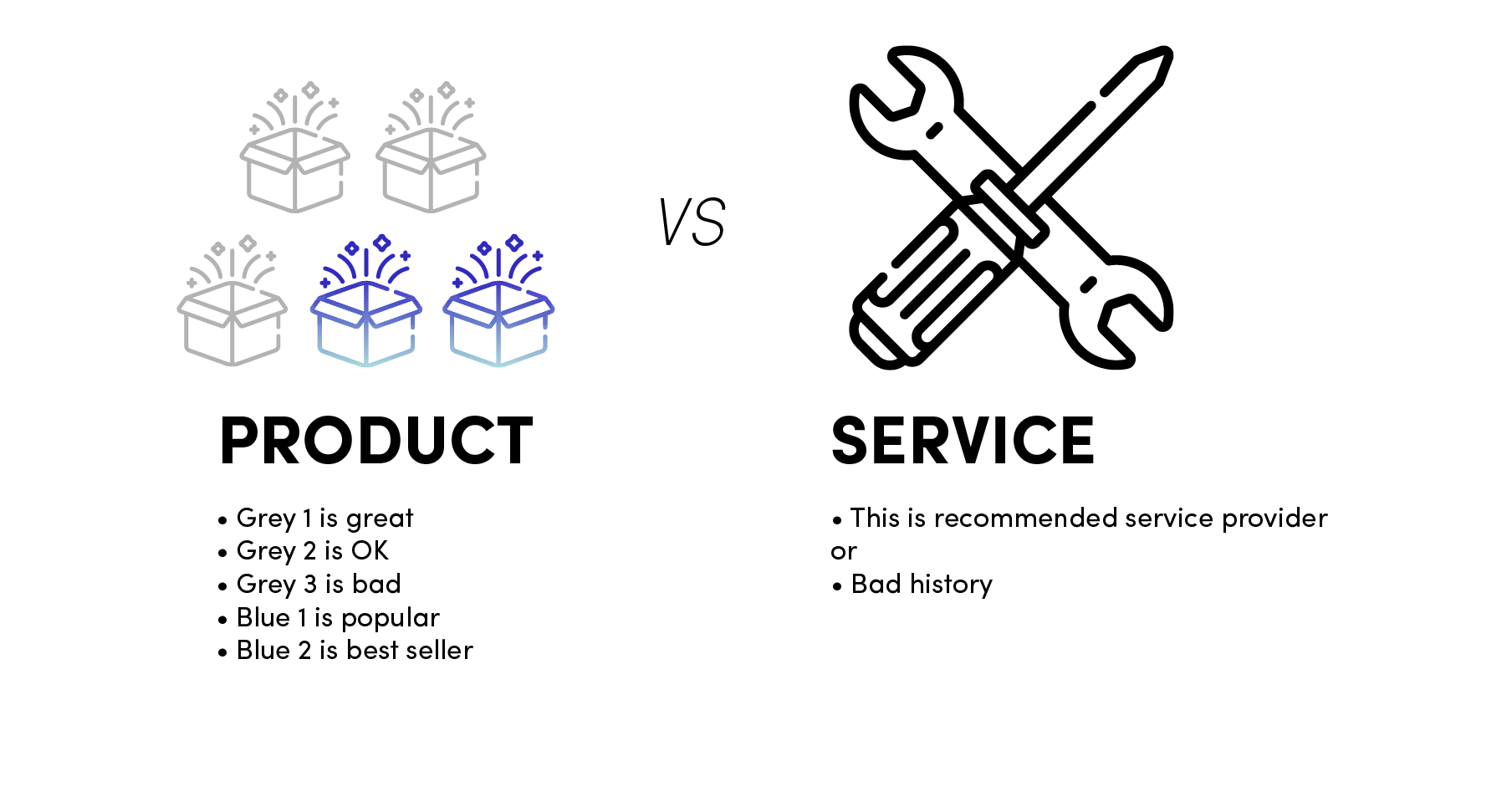 Here we can identify another significant difference. For example we like some brand, but we buy a particular product of the brand. I like Adidas, but I would rather go for a comfortable Nike model than just any Adidas sneaker. In the world of physical products, customer trust can be steered by brand but ends up placed in a single product. As such, the product is evaluated and communicated (Trust Pilot, Lipscore, Amazon reviews) to customers.
When it comes to services, trust is put into the whole company (brand). A construction company can be for example very good at installing floors. But if they destroy a roof or two, very soon there will be enough negative reviews so their business will suffer overall. Such things will hardly happen to Nike or Adidas, even though both had some pretty bad products over the years. Also, service providers must get better at branding a service, so one day some e-commerce could offer "Stove heater replacing by company ABC" and "Stove heater replacing by company XYZ" side by side, as two pairs of sneakers (CASE 3).

Stock of service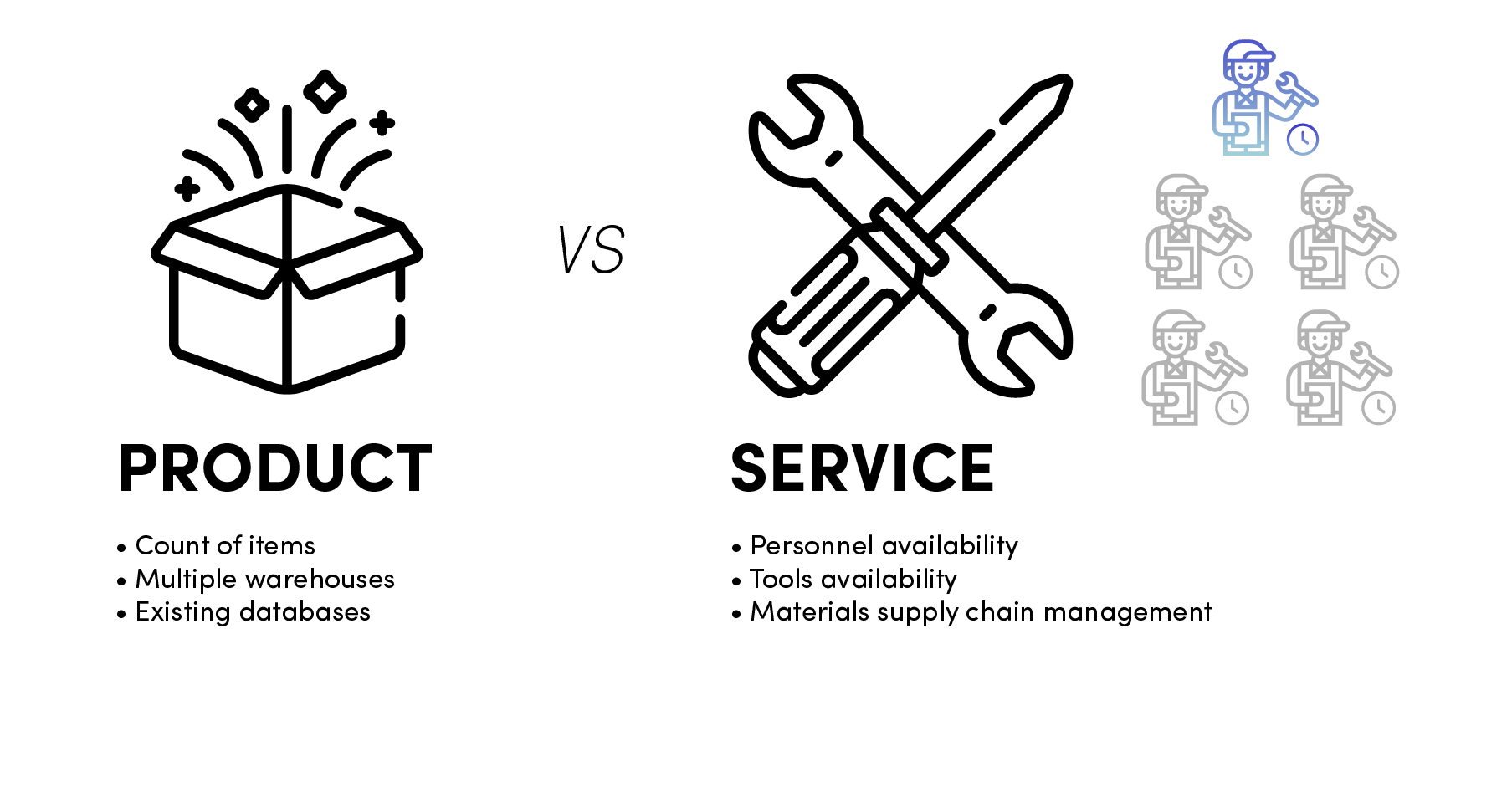 Last but not least and most probably the largest task for the service industry is to "stockify" their delivery. Physical products are pretty straightforward there. Most retailers have it figured out and we are successful in communicating, deducting or increasing stock counts based on customer interaction.
When it comes to service, how do we answer simple questions:
Can users see the availability?
Completion date?
Price?
Yes if this is in place: Stock status of a service as a synchronized calendar of personnels individual calendars combined with supply chain management of tools and materials they will use.
Pretty complex compared to material stock, isn't it. Especially when we know that supply chain management relies on delivery from multiple external stocks. This is where most of the work must be done in terms of digital transformation of service business at hand. It will require discipline in updating individual calendars to communicate correct throughput potential. Without producing reliable "under the hood" replacement for material stock statuses, it will be very hard to move to the next step and sell services as products via e-commerce. Ideally, one request for stock for a service would return (first availability 3 days from now, takes 5 days, shipping 2 days per direction). It would take tremendous effort from a local car shop to automate this reply for eCommerce use.
Example cases
Let's review some real life cases and play a game of evaluating them in the context of this article.

Case 1: Laptop battery replacement
User chooses the service. Selects the laptop type and confirms the battery offered. Service description says: "When order is placed, we will send you an empty protective box and a postal sticker. You can expect your computer 3-5 days after we receive it."
Location: Service, two way shipping
Trust: Mostly in product since service is simple.
Price: 100 USD
E-commerce ready.
Case 2: Elliptical trainer fix
This case is an example of how service previously provided on site (at a workshop) got transformed into a customer support case.
I had a problem with some parts worn out. In communication with service, they asked me to film everything that moves and shouldn't, plus parts that should move and are blocked. After uploading the video and a couple more emails, the service sent me a handful of parts and a special tool for ball bearings. Invoice contained parts and a tool.
I did the work myself, without using the tool. Sent it back. New invoice contained only parts.
Even though this is a typical support case, I see it as a great example which way spontaneous digital transformation can take the service businesses. The company gave up the profit here, because business model is brand new. It will be interesting to to see where next step will take them. Will they box the price of consulting in spare parts? Or you will be able to order hours of consulting by skilled service worker?

Location: Home, two way shipping
Trust: There was no trust required.
Price: Only spare parts. They didn't earn anything on service or consulting.
Not ready for e-commerce.
Case 3: "Fiks Ferdig" at Byggmakker
This project deserves an article of its own. In short, we have enabled our client Byggmakker to offer their customers turn-key construction solutions. Windows replacing or roof fixing for example. Customers use the initial form to create a description of what is needed, upload photos, measures and other relevant information. Byggmakker as a mediator assigns the project to one of the partners in their network. The workflow contains a variable number of steps depending on project complexity. Data is then evaluated, inspection date is set, offer presented and if accepted by customer windows get replaced. At the end there is an acceptance step and the project is closed.
Communication complexity of such projects makes them tough candidates for e-commerce we are talking about here.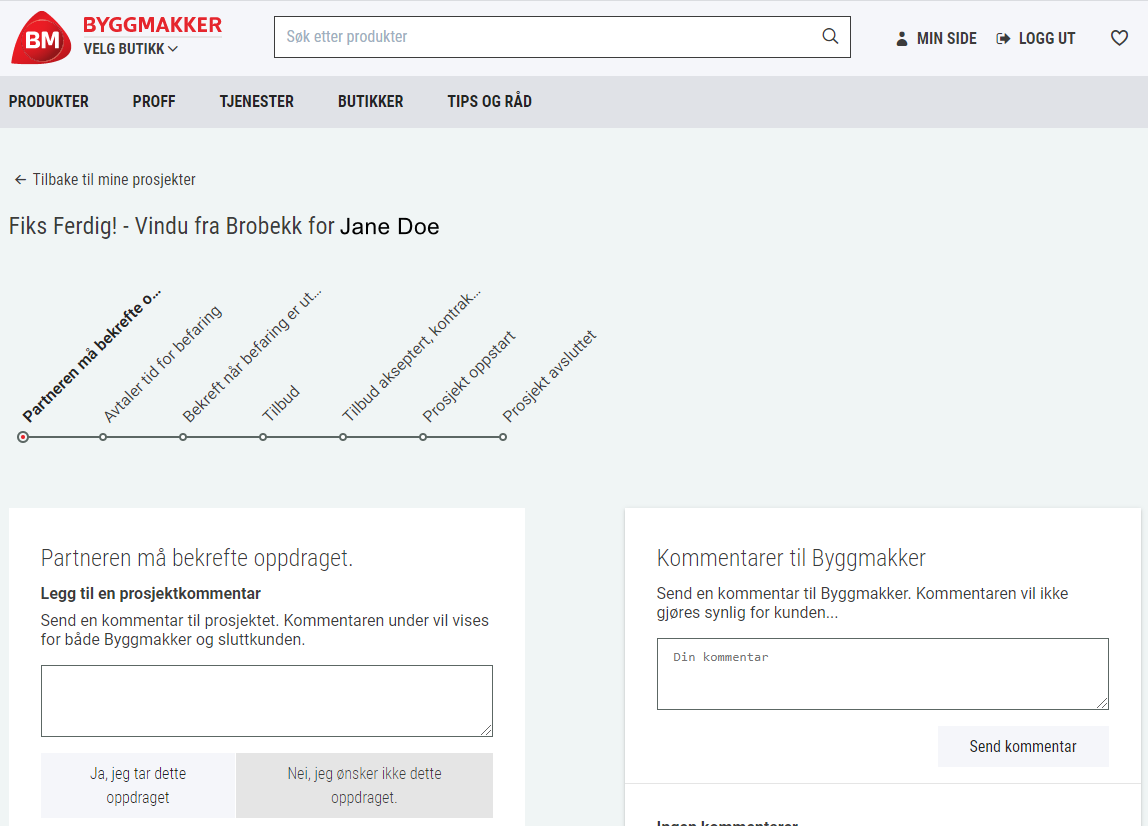 Location: Home
Price: Subject of acceptance. Both service and materials provided by Byggmakker.
Trust: Supervision by Byggmakker.
In progress of becoming e-commerce ready: Complexity of workflow requires specific implementation on top of Episerver Commerce and Omnium OMS. With enough repetitions, it is to be expected that Byggmakker can collect enough data to shape project types more towards automation.
Conclusion
Now, to finish with what I started. Yes it took us years to optimize processes of selling products online. Remembering the first web shops makes everyone smile. Yet, I expect the process with services to move much faster now. We have big data, machine learning and emerging AI at our disposal. Vast experience from helping clients progress from retail to e-commerce is on our side. Most of the clients already built experience in digitalization of areas never considered in pre Covid-19 times. Will businesses lean more towards e-commerce, or will we lean towards customizing platforms to support services, I do not know. But I strongly believe that the future is bright when it comes to selling services online.