How to use your landingpage
C
o
n
v
e
r
s
i
o
n
a
n
d
O
p
t
i
m
a
l
i
s
a
t
i
o
n
,
E
-
c
o
m
m
e
r
c
e
A Landing page can be described as a page that the visitors arrive on. There are different types of landing pages but I decided to focus on "Click through" landing page. This is a landing page where the focus is mainly on e-commerce, click through pages, which "warms up" the customers and guide them into making a purchase.
I created a list of top 5 ideas how to use a landing page in a efficient way:
1. Personalization
Today you have the opportunities through different tools such as DoubleClick, to set up behaviour targeting on a landing page. This is very efficient if you have a unisex site for both women and men, or a site with a wide variation of products to create segments adapted for your customers. E.g. if you are a woman in the middle 30s on a food site, you might be interested in different products than a man in the 20s. Setting up behaviour targeting can help you increase the conversion rate and increase the revenues.
2. SEO friendly
Create a landing page URL which can be usedfor an unlimited time. This means that your landing page can be easier found by the organic search. However, if you create an unlimited landing page, do not forget to optimize the information and products related to for example seasons. This can then help you to increase the traffic to the page and if you delete the URL, you will delete the organic search history.
3. Campaign promotion
A landing page can help you to push products, services or any other campaigns that you would like to promote. For instance; Are you getting ready for a summer sale? Do you feel that you have too much stock of some categories? Create a landing page that you divided into sections where you can push extra categories, brands or divided the categories into %-discount sections such as 30%, 50%, 60% etc.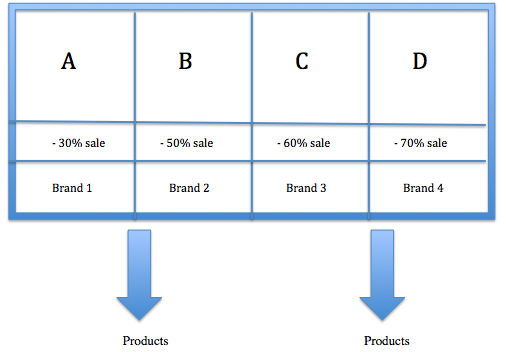 4. Tracking
If you create tracking on the landing page you can easily see for example the amount of impressions it gets. If the amount of impression is low, it might need an extra push in a newsletter or social media. If the customers do click on the landing page it will tell you that the request is high about the topic/campaign. Other KPIs you can track are conversion rates and bounce rate of the landing page. When you have all the data, analyze it and remember it for the next landing page you create.
5. Guide the customers
A landing page is in addition a perfect way to guide the customer into a new page, newsletter sign up or give them extra inspiration for what to buy. However, not all landing pages have good performance, which is ok, as it is all a learning process. And by knowing what our customers do not want, we will also learn what they do want. The goal in our e-commerce business is to personalize and have our customer in mind the whole way through their shopping experience, which will increase your sales.
In conclusion
There are many ways to increase sales through a landing page, and I have discussed the five I believe are the most efficient from my own experiences. If you do have any other experiences, good advice or comments please feel free to share it with the rest of us below.
I hope you enjoyed my post and thank you for your time! :-)